South African Finance Minister Malusi Gigaba has to balance slow economic growth and a gaping tax hole against the need to rescue struggling state companies in his first mid-term budget, as ratings firms prepare to review the nation's debt that has already been assessed junk by S&P Global Ratings and Fitch Ratings Ltd.
The following charts illustrate how tough the task is that Gigaba faces when he delivers the budget update in Cape Town on Wednesday: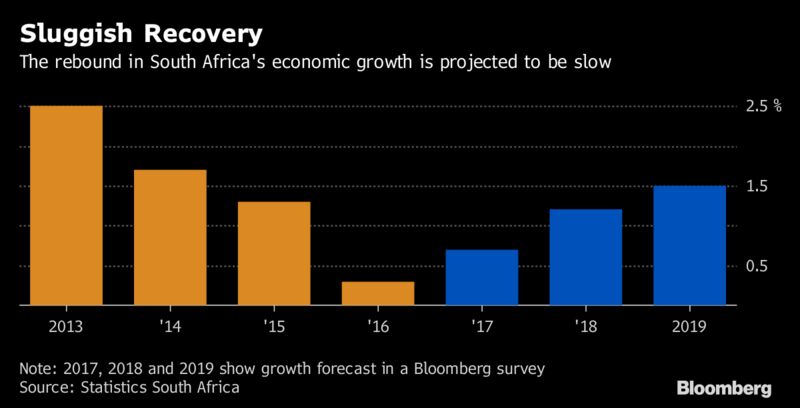 South Africa's economy emerged from its second recession in less than a decade in the second quarter and while gross domestic product is forecast to expand faster this year than 2016's seven-year low, anemic investor and business confidence are limiting growth and job creation. That makes it difficult to finance the government's welfare and redistribution plans, Paarl, South Africa-based NKC African Economics said in an emailed note.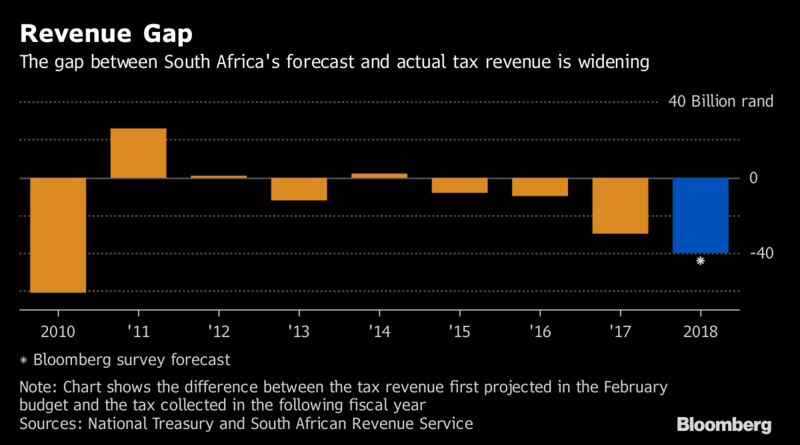 Slow GDP growth is hampering the state's ability to meet its revenue targets and the tax shortfall for the current fiscal year could be the largest in eight years, according to a Bloomberg survey. The economy will expand 0.7 percent in 2017, 1.2 percent in 2018 and 1.5 percent in 2019, according to a separate survey.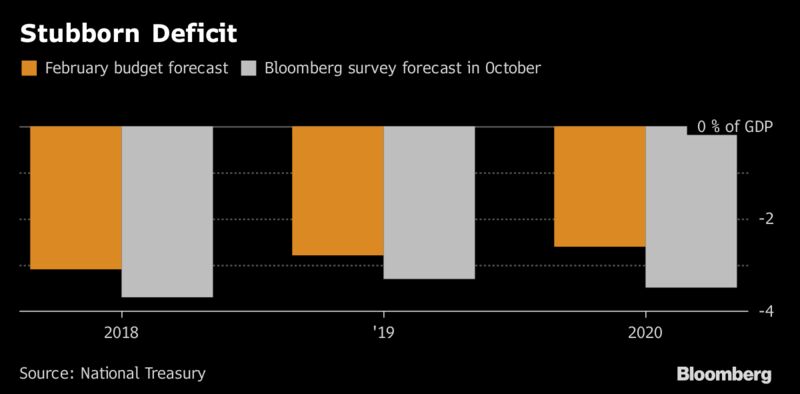 The weak economy has made it difficult for the government to keep to pledge of reining in the budget gap. Gigaba is expected to announce a deficit estimate larger than projected in February, with the Treasury also under pressure from government-worker labor unions demanding a pay increase of more than 10 percent when inflation is 5.1 percent.
"The public-sector wage bill has been a key source of expenditure pressure since the 2008-2009 global financial crisis," Razia Khan, head of Africa macro research at Standard Chartered Plc said in an emailed note. "The authorities may need to adopt a tougher stance in upcoming public-sector wage negotiation rounds, which may be politically difficult."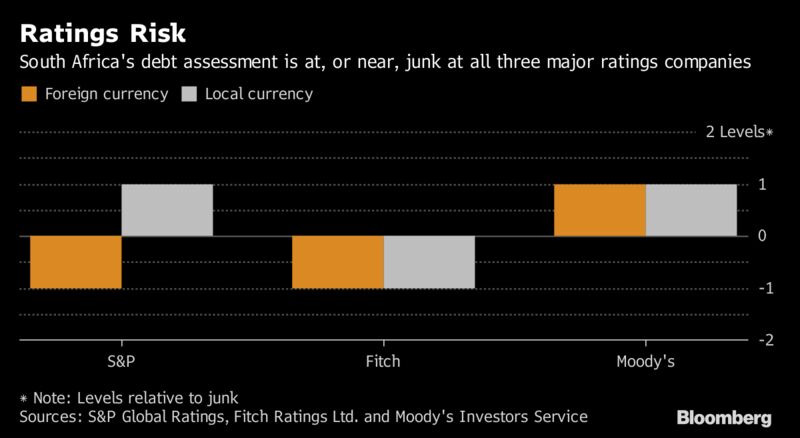 S&P and Fitch cut the nation's foreign-currency debt to junk in April after President Jacob Zuma replaced the respected Pravin Gordhan with Gigaba. While S&P and Moody's Investors Service still assess the rand-denominated debt as investment grade, both companies are scheduled to give updates next month and will be watching for a deterioration in debt and deficit projections.
"The finance minister has an impossible task to try appease the credit-ratings agencies," Jana van Deventer, an analyst at ETM Analytics in Johannesburg, said by phone. "The only thing he possibly can do is to buy more time for South Africa to delay further ratings downgrades."
Source :